The easiest way to verify if the shoe (Nike/JOrdan) are NOT a fake is to do research to see if that colorway has been released by the company.
There are several websites that offer the lineage of Nike/Jordan Brand shoes, revealing all colorways released. Air-jordans.com is an excellent resource.
If it has been released your on your way to validation. If the company HAS not released that colorway it is a fake.
POS stamp + Player Only Sample -- B stamp is for blemish.
These are a few pointers, there are MANY more indicators to show if a released colorway is a fake.
One obvious is the price, if it is to low, and the seller has MANY, most likely they are fake.
If they do not offer sizes outside of 7-13, most likely they are fake.
update: (10/29/06): Fakes are now being produced past size 13. Size 14 are being produced more and more. I have seen a handfull of size 15 fakes as well.
Bootleggers use the same equipment Nike uses to make shoes, so all sizes could be reproduced. The smaller the size the less material obviously. Nike has shut down
up to 300 Bootleg factories in one month alone. It is a huge problem. Nike takes it seriously and has stopped several large shipments entering the USA recently.
Since some countries do NOT have stringent copyright laws or enforcement, these factories pop up everywhere and manage to find a market all over the world.
EDUCATE yourself and do not get burned by these criminals. Read on and pick up some good info.......
Stay away from wiretransfers as payment and be leary of oversea shippers. Paypal is the safest method of payment.
.
** As of early 2008, PayPal has extended coverage to PowerSellers in which a PowerSeller can ship to an unconfirmed address.
*** You can always drop me an email with the item# and I can inspect them and also send a pic to NikeTalk and ISS Forum for authentication. But most are obvious.
Most fake sellers on ebaY make the same mistakes, because they are trying to hide the truth of the matter that they are selling illegal fakes.
Here are some red flags:
-stock photos
-small photos
-shoes are priced way below value
-have several pairs of rare shoes and no sizes 15 and over is a dead giveaway
-no ebay ID (tagged) written on a piece of paper next to shoes in photo
-no pictures of soles, no close ups of soles (limited pics or one pic)
-seller has a USA address but drop ships them to you from another country
-seller is from another country
-new to ebay
-claims that shoes are unreleased or has them before release date
-odd colors
-hiding bidders ID
-no pics
-can NOT spell GUARANTEED !!!
What you should look for: including (caveats)
-clear large photos with the seller's id written on a piece of paper visiable next to the shoes
-look at what other items the seller is selling, (are the other items real ? good OR are there obvious fakes elsewhere in the seller's inventory - stay away!!)
-look at how many recent positive sales the seller has, (a stagnant or old history is not reliable)
-A seller that answers your questions and is willing to communicate and not hide any info
-a seller that has been on ebay for a length of time and has several dozen positive feedbacks. (Be extra careful of sellers with under 50 transactions.)
If someone is trying to get the MOST money for their RARE shoes, one would THINK that the seller would DISPLAY, ILLUSTRATE, PICTURE ALL of the GREAT ASPECTS and DETAILS of the RARE and GREAT shoes, and NOT HIDE anything !!! Afterall it is just like a resume, only display a 4.0 , nothing less. One does not show/display their faults, in this case the FAKE seller does not want to picture the faults or tell tale areas of the fake shoes. In the case of a resume one would not display the C or D average on their diploma if such the case. Only an A or 4.0. Lets get back to shoes .....
If they are not laying ALL the cards on the table, or come up with an excuse to see their hand, that usually means they do NOT have good cards (shoes in this case).
ADDITIONAL INFO : UPDATE / WITH PICTURES OF FAKES !!!!
Jordan XI's are the MOST ILLEGALLY copied shoes on the market, with as much as 1/3 of all Air Jordan XI's sold on eBay being FAKES, with many coming from China. It is important to note that the fakes of the Air Jordan XI usually have a hard mid-sole (it is supposed to be soft or at least semi-firm), a low or barely visible arch on the mid-foot, and a disfigured checkered pattern on the bottom of the shoe. I have several pictures below of the most obvious XI fakes.
REAL Carbn fiber is stiff and strong, like a stiff strong plank that supports your body weight.
The fake "carbon fiber" is thin and presses in with minimal pressure. Offers ZERO support for your body.
There are a number of people out there who are looking for good deals on rare and unique shoes...and there are even more people out there that are willing to sell you fake shoes. These shoes seem to be unique but are really just a cheap knock off that you can buy for less than $20 in certain Asian countries. Think about it, for instance Jordan XIs, when they were retroed they sold out in minutes. People were in line for hours, some places days. You can look on ebay and somehow some sellers have a complete inventory of them in all colors. FAKE-JUNK.



MORE TIPS:

AUTHENTIC Nike / Jordan shoes come WITH a box, and have matching style / color codes and look and feel real. Even the FAKE box is a give away, it is usually smaller and made of a thinner cardboard and I have seen some lids folded over and velcroed.

Just because someone has a good eBay rating does not mean they sell real shoes. There are a number of people that sell fake shoes and have a flock of followers. Also, there are easy ways to pump up your eBay ID.........

A factory variant shoe is a sly way to say FAKE SHOES.
B grades mean blemished. Factory seconds, these are usually from a Nike Factory Store and are legit.

Fake shoes are not near the quality of what you would expect from NIKE / JORDAN. They are NOT worth the money and the headaches. You also run the risk of hurting your feet and lower back due to the poor construction and materials used.

Many FAKE shoes will not come in half sizes.

Also be aware that some sellers will take a picture of a REAL shoe and then send you a FAKE. Always ask for more pics, and ask for the ID user name to be included in the pictures.

If the price is to good to be true, guess what , it usually is. Remember these shoes retail for upwards of $170 for foamposites and some Jordans (XXIs).


I have included some pics of fakes, I wish they could be larger but eBay regulates the size.

Check back for updates.

Please email me if you have any info you would like me to add.


Lets put an END to the FAKE SELLERS and FAKE worthless products these sellers try and pawn off for the real deal .
RELEASE TERMINOLOGY;
GR- over 7000 pairs
Limited 2500-4500
QS-500-1000
hyperstrike-250-400
friends&family/VIP- 24-15
HERE ARE SOME PICS OF FAKE JORDANS !! EBAY IS LOADED WITH THEM !!! DO NOT BUY FAKES !!

FAKE "carbon fiber" is checkered plastic
REAL !! LOOK AT THE CARBON FIBER CHECKERBOARD !! THE CARBON PHOTOS UNIQUELY.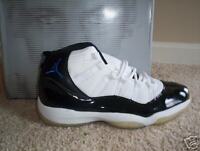 FAKE ! ! THE ANKLE/HEEL WAS NEVER COLORED

FAKE colorway never made by Jordan/ Nike
FAKE -- COLOR never produced by Jordan/NIKE

FAKE --- COLOR never produced by Jordan / NIKE

Black and Green DUB Zeros ? These arent on the release list !! FAKE !!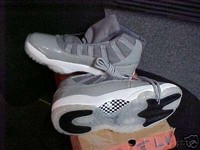 FAKE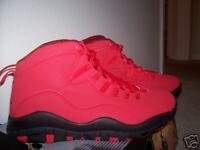 FAKE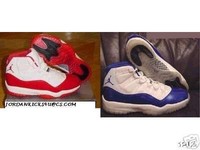 FAKE AND FAKE COLORE NEVER MADE BY JORDAN/NIKE
OFFICIAL ISS PRICE GUIDE UPDATED 1/27/2007
Air Jordan OG I (1985-1986)


White/Red-Black (KO) $1300+
White/Black-Red $950+
Black/Red-White $900+
White/Red-Black (Prototype) $1500+
Black/Royal Blue 750+
Black/Grey $600+
Grey/Black $650+
White/Natural Grey $550+
White/Blue $500+
White/Black $600+
White/Carolina Blue $800+
White/Metallic Blue $1500+
White/Metallic Green $1500+
White/Metallic Purple $1400+


Air Jordan OG I Low


White/Metallic Blue 1300+
White/Dark Red 1350+


Air Jordan Original Samples


White/Metallic Red $2500+
White/Metallic Black $2000+
White/Purple-Yellow $1500+
Black/Metallic Gold-White $2000+
Black/Metallic Gold-Black Patent-$10,000+


Air Jordan I Retro (1994)


White/Black/Red $400+
Black/Red $400+


Air Jordan I Retro (2001 USA Ed.)


Black/Varsity Red $230
Black/Varsity Royal Blue/White $175
White/Metallic Silver/Midnight Navy $175
Neutral Grey/Silver/White $165


Air Jordan I Retro+ (2002)


White/Metallic Silver (Jumpman on Side) $110


Air Jordan I Retro+ Patent Leather (2003)


White/Carolina Blue $135
White/Black/Varsity Red $165
Black/Metallic Gold $165


Air Jordan I Nu' Retro


Black/White/Varsity Red $40
White/Midnight Navy $40
Black/White $40


Air Jordan I Retro+ Low


White/White/Metallic Silver $110
White/Metallic Silver/Midnight Navy $125


Air Jordan 1.5


White/Metallic Gold/University Blue $120
-------------------------------------------------------------------------------


Air Jordan OG II (1986-1987)


White/Red-Grey $1100+
White/Black-Red $900+


Air Jordan OG II Low


White/Black-Red $850+
White/Red-Grey $1200+


Air Jordan II Retro (1994)


White/Red/Black $350+


Air Jordan II Retro Low (1994)


White/Red/Black $385+


Air Jordan II Retro


White/Red/Black $150
Black/Chrome $145
White/Columbia Blue/Varsity Maize (Melo) $230


Air Jordan II Nu' Retro


White/Varsity Red $50
Black/Metallic Silver $50
White/Midnight Navy/University Blue $50


Air Jordan II Retro Low (2004)


White/Red $75
White/University Blue/Black $65


Air Jordan II Retro Low (2005)


White/White-Varsity/Maize $75
White/Pink $75
-------------------------------------------------------------------------------


Air Jordan OG III (1988)


White/Cement Grey $750+
Black/Cement Grey $1100+
White/Fire Red $1250+
White/Cement Grey-True Blue $1200+


Air Jordan III Retro (1994)


White/Cement Grey $500+
Black/Cement Grey $500+


Air Jordan III Retro (2001)


Black/Cement Grey $400
White/True Blue $375+
White/Dark Mocha $285+


Air Jordan III Retro (2003)


White/Cement Grey $300
-------------------------------------------------------------------------------


Air Jordan OG IV (1989)


White/Black-Cement Grey $650+
Black/Cement Grey $675+
White-Military Blue $1000+
White/Red-Black (Fire Red) $900+


Air Jordan IV Retro


Black/Red/Cement Grey $450-500
White/Black $450-500
White/Columbia Blue/Midnight Navy $295
Black/Black/Cool Grey $300
White/White/Chrome $275
White/Chrome/Classic Green $140
Cool Grey/Chrome/Dark Charcoal/Varsity Maize $165


Air Jordan IV Retro Limited


White/Fire-Red/Black $325-(Laser Package $385)
Black Varsity Red/Medium Grey-$400 (Rare Air Laser)
Olive-Oiled Suede-Flight Satin (Undefeated) $2500+
Blue/Black Lt Grey (Eminem) $3500+
Black/Tour Yellow (Thunder Package) $450+
Tour Yellow/Dark Blue-Grey-White (Lightning Package) $300


Jordan IV Retro (2006)


Black/Black/Light Graphite (Black Cat) $155
White/Metallic Silver (Pure) $135
White/Tour Yellow-Dark Blue Grey-Black $165
Mist Blue/University Blue-Gold Leaf-White $145
White/Varsity Red-Black (Mars) $160
White/Military Blue-Neutral Grey (Military) $145
White/Boarder Blue-Light Sand $120
-------------------------------------------------------------------------------


Air Jordan V OG (1990)


White/Black-Fire Red $600+
Black/Black-Metallic Silver $650+
White/Grape Ice-New Emerald $750+
White/Red-Black #23 $750+


Air Jordan V Retro


White/Black/Fire Red $350
Black/Black/Metallic Silver $375+
White/Varsity Royal/Varsity Maize (Laney) $325
White/Metallic Silver/Black $265


Air Jordan V Retro (2006)


Blk/University Blue-White $215
White/Grape Ice-New Emerald (Grapes) $235
White/Sport Royal/Stealth $150
Olive/Oiled Suede-Flight Satin $175
Silver-Green Bean-Flint Grey $150
Deep Burgundy/Flint Grey-White $170
White/Fire Red-Black $165
White/Fire Red-Sunset-Dark Cinder $130
Silver/Shy Pink-Stealth $125


Air Jordan V Retro (2007)


White/Army Olive-Solar Orange-Bison RA $265
Black/Metallic Silver-Fire Red $165


Air Jordan V Retro Low


White/University Blue-Team Red $125
White/Black-Metallic Silver $120
-------------------------------------------------------------------------------


Air Jordan VI OG (1990-1991)


Black/Deep Infra Red $850+
White/Deep Infra Red $1000+
White/ Maroon 850+
White/September-Blue $900+
White/Carmine-$1200+


Air Jordan VI Retro


Black/Deep Infra Red $465+
White/Midnight Navy $300+
Midnight Navy/Varsity Red/White (Olympic) $525+
Jordan LE (Defining Moments Pack) Jordan VI $250 (Pack $565+)


Air Jordan VI Retro Low


Black/Metallic Silver $185
White/University Blue $155
White/Coral Rose $145
-------------------------------------------------------------------------------


OG Air Jordan VII (1991-1992)


Wht/Blk Cardinal-Red/Bronze (Cardinals) $350+
Wht/Lt-Sil True Red (Hare) $700+
Black/Dark Charcoal/True Red $350+
White/Metallic Gold/Midnight Navy/True Red (Olympic) $450+
Black/Light Graphite-Bordeaux $700+


Air Jordan VII Retro


Black/Dark Charcoal/True Red $185
White/French Blue/Flint Grey $185
White/Metallic Gold/Midnight Navy/True Red (Olympic) $175


Air Jordan VII (2006) Retro


Pearl White/Bright Ceramic/Pacific Blue $145
White/Black/Cardinal red/bronze $135
White/Varsity purple/ flint grey $135
Black/Chambray/Light Graphite $185
White/Varsity Maize-Black $145
-------------------------------------------------------------------------------


OG Air Jordan VIII (1993)


Black/Concord/Aqua Tone $600+
White/Black/True Red $285+
Black/True-Red $365+


Air Jordan VIII Retro


White/Black/True Red $185
Black/Chrome $180


Air Jordan VIII Retro Low


White/Chrome $125
Black/True Red/Del Sol $120
-------------------------------------------------------------------------------


OG Air Jordan IX (1993-1994)


White/North Carolina Blue $400+
White/Black/True Red $350+
Black/Light Olive/True Red $250+
Black/Charcoal-True Red 365+


Air Jordan IX Retro


White/Black/True Red $200
Black/Light Olive/True Red $160
White/French Blue/Flint Grey $155
Medium Grey/White/Cool Grey $185


Air Jordan IX Retro Low


White/White $120
White/Midnight Navy $115
-------------------------------------------------------------------------------


OG Air Jordan X (1994-1995)


White/Black/Light Steel Grey $300
White/Black/Dark Powder Blue $350
Black/Dark Shadow/True Red $275
White/Black/True Red (Chicago) $1300+
White/Black/Kelly Green/Yellow Gold (Seattle) $425+
White/Black/Royal Blue/Metallic Silver (Orlando) $400+
White/Black/Royal Blue/Orange Flame (New York) $450+
Black/Dark Concord/Metallic Silver (Sacramento) $425+


Air Jordan Retro X (2005)


White/Medium Violet-Light Graphite $115
White/Varsity Red/Light Steel Grey $150
White/Linen $130
White/Black Steel Grey $140
White/ Ice Blue $155
Blk/Blk $135
-------------------------------------------------------------------------------


OG Air Jordan XI (1995-1996)


Black/Varsity Red/White $370
White/Black/Dark Concord $500+
White/Columbia Blue/Black $425


Jordan OG XI Low


Black/Dark Grey/True Red $165
White/Light Grey/Cobalt $160


Air Jordan XI Retro


White/Black/Dark Concord $385+
White/Columbia Blue/Black $300
Black/Varsity Red/White $335
Black/Varsity Royal/White (Space Jams) $375
Medium Grey/White/Cool Grey $310+
Jordan LE (Defining Moments Pack) Jordan XI $275 (Pack $550+)


Air Jordan XI Retro Low


Black/Dark Grey/True Red $155
White/Light Grey/Cobalt $150


Air Jordan XI Retro Low (Patent Leather)


White/Varsity Red $215
White/Columbia Blue $185
White/Light Zen Grey $180
White/Black/Navy (Snake) $185
White/Citrus $190
White/Metallic Silver $150
White/Black/Pink (Snake) $175
White/Hot Pink $160
-------------------------------------------------------------------------------


OG Air Jordan XII (1996-1997)


White/Black/Taxi $220
White/Varsity Red/Black $265
Obsidian/White/French Blue $200
Black/Varsity Red $200
Black/White/Varsity Red/Metallic Silver $235


Air Jordan XII Retro


Black/Varsity Red $160
Black/White/University Blue (Nubuck) $210 (Complete Set $300)
White/Flint Grey/Silver $155
White/French Blue/Metallic Silver/Varsity Red $145
Black/White/Varsity Red $170
White/University Blue/Metallic Silver (Melo) $165


Air Jordan XII Retro Low


Obsidian/University Blue/White $115
White/Black/Taxi $125
White/Pink $110
-------------------------------------------------------------------------------


OG Air Jordan XIII (1997-1998)


White/Black/True Red $275
Black/True Red/White $300
French Blue-University Blue-Flint Grey $265
White/True Red/Black/Pearl Grey $245
Black/Varsity Red $230


Air Jordan XIII Low


Navy/Metallic Silver/Black/Carolina Blue $250
Black/Chutney $220


Air Jordan XIII Retro


Black/Varsity Red $170
White/Wheat $150
White/Maroon/Grey (Grey Toe) $155
French Blue-University Blue-Flint Grey $185
Black/Altitude Green $225
White/Neutral Grey-University Blue $155


Air Jordan XIII Retro Low (2005)


White/Metallic Silver-Obsidian-Orange Flash (L-Style Series) $135
White/Black Varsity Maize $125
Black/White Varsity Maize $125
White/Metallic Silver-Midnight Navy-Ice Blue $115
White/Red $125
White/White $110
White/Carolina Blue/Pink $100
-------------------------------------------------------------------------------


OG Air Jordan XIV (1998-1999)


White/Black/Varsity Red $220
White/Varsity Red/Black $220
White/Black/Oxidized Green $180
Black/Black/Varsity Red $225
Black/Black/White/Indiglo $285
White/Obsidian/Columbia Blue $240


Air Jordan XIV Low


White/Columbia Blue/Obsidian $150
Varsity Royal/Black/White $130
Light Ginger/Black/White $120


Air Jordan XIV Retro (2005)


Black/Light Graphite/Metallic Silver/Redwood $145
Black/Black/Varsity Red $135
Wht/Linen/Varsity Red $115
White/Forest Green/ Light Graphite $120
Black/Real Pink/Metallic Silver $130
White/Dark Cinder/Chutney $115
White/Chartreuse/Black $135
Light Graphite/Chartreuse/Black $135


Air Jordan XIV Retro (2006)


Wht/Black/Varsity red/Metallic Silver $130
White/Varsity Red/Black $135
Black/University Blue/Metallic Silver $155
-------------------------------------------------------------------------------


Air Jordan XV (1999-2000)


Black/Varsity Red $210
White/Columbia Blue/Black $175
Flint Grey/White $170
Obsidian/White/Metallic Silver $165
White/Black $170
White/Varsity Red $185
White/Pine Green $165
White/Midnight Navy $170
White/Purple $175


Air Jordan XV Low


White/Deep Red $155
White/Midnight Navy $165
Black/White/Metallic Silver $110
-------------------------------------------------------------------------------


Air Jordan XVI (2001)


Black/Varsity Red $300
White/Midnight Navy $225
Whisper/Cherrywood/Light Graphite $160
Light Ginger/Dark Charcoal/White $135+


Air Jordan XVI Low


Black/Black/Metallic Silver $125
White/Varsity Red/Black $135
-------------------------------------------------------------------------------


Air Jordan XVII (2002)


White/College Blue/Black $235
Black/Metallic Silver $200
White/Varsity Red/Charcoal $215
White/Black/Metallic Copper/Sport Royal $180


Air Jordan XVII Low


White/University Blue/Black/Chrome $130
White/Black/Yellow (Lightning) $185
Black/Chrome $115
-------------------------------------------------------------------------------


Air Jordan XVIII (2003)


Black/Sport Royal $165
White/Sport Royal/Black $150
White/Varsity Red $145


Air Jordan XVIII Low


Black/Metallic Silver/Chrome $75
White/Chrome/University Blue/Metallic Silver $70


Air Jordan 18.5


White/Black/Chrome $100
Black/Chrome/University Blue $100
-------------------------------------------------------------------------------


Air Jordan XIX (2004)


White/Chrome/Flint Grey/Black $150
Black/Varsity Red $165
Black/White/Metallic Silver (West) $135
White/Varsity Red/Metallic Silver (Midwest) $135
White/Midnight Navy/Varsity Red (East) $150


Air Jordan XIX Low


White/Cement Grey/Black $110
Black/Metallic Silver/Varsity Red $110
Neutral Grey/Black/Light Graphite $110
Obsidian/Vapor $110
Cinder/British Khaki $110


Air Jordan XIX SE


White/Metallic Gold/Midnight Navy (Olympic) $135
Black/Metallic Gold $135
-------------------------------------------------------------------------------


Air Jordan XX (2005)


Chutney/White/Black (East) $125
Varsity Red/White/Black (MID West) $135
University Blue/White/Black (West) $125
White/Varsity Red-Black $160
Black/Stealth-Varsity Red $220
White/Black-Varsity Red (Quickstrike) $170


Air Jordan XX ¾


White/Metallic Silver/Deep Garnet $110


Air Jordan XX Low


Black Chartreuse/Light Graphite $80
White/Midnight Navy/Neutral Grey $80
-------------------------------------------------------------------------------


Air Jordan XXI (2006)


Black/Metallic Silver $165
Wht/Varsity red/black/metallic Silver $165
Red/Black/White/Metallic Silver (Italian Suede) $210
Light Graphite/Metallic Silver-White-University Blue: $155
White/Metallic Silver-Black $165


Air Jordan XXI Low


White/University Blue-Metallic Silver $130
Black/Varsity Red $135